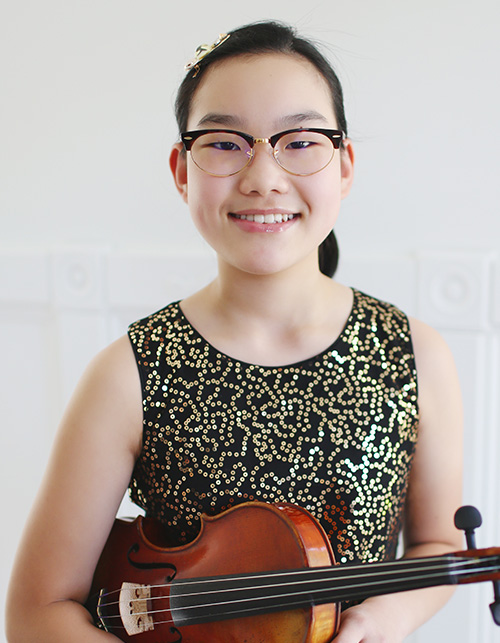 Contact Info
Emma-Grace Kim
Founder, Co-President, Violin
Emma-Grace Kim (violin), 13 years old, is from Herndon, Virginia, and attends Rachel Carson Middle School. In 2019 and 2021, Emma-Grace won first prize in the Northern Virginia Music Teachers Association (NVMTA) Concerto Competition, and was given the opportunity to perform as a soloist with the Amadeus Orchestra. In addition, she performed at the National Gallery of Art in Washington, DC, as a prize winner of the Feder Memorial String Competition,  and was invited to perform as a soloist with her school orchestra.
In May 2020, she performed on From the Top's Facebook live concert. The following year, she hosted an Instagram Takeover for Washington DC's WETA Classical, highlighting her life as a young classical musician. Her performance and interview with John Banther, WETA Classical's radio host and producer, were featured on WETA Classical's Facebook event.
Over the last two summers, Emma-Grace was accepted into the Heifetz International Music Institute, where she had the opportunity to participate in a 3-week summer program for young string musicians. She has been a member of the American Youth Philharmonic Orchestra (AYPO) for the last 4 years, and was concertmaster during the 2021-2022 season. Emma-Grace is currently a part of the American Symphonic Orchestra (AYSO). More recently, Emma-Grace was invited to perform at the Martin Luther King Jr. Memorial Library's 50th anniversary celebration in Washington DC, as a member of the AYPO.
Most recently, Emma-Grace was selected as a fellow with NPR's From the Top where she had the opportunity to participate in a series of programs that included workshops, community engagement activities, and performances. Her music and interview with FTT's host, Peter Dugan, will be featured on NPR's radio program and podcast.
At the same time, Emma-Grace and her sister recently launched a student-led organization, called Itzart4you, which provides free music lessons to students in Title I schools.
Outside of music, Emma-Grace enjoys watching anime, listening to K-pop, and playing with her dog.